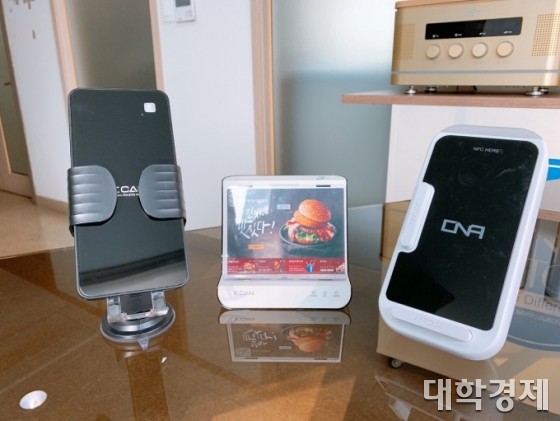 CNA, First time in the country! Developed content auto-run wireless charger'XCAN'
http://m.ubiz.mt.co.kr/view.html?no=2021041521147436759
Reporter Lim Hong-jo
|
2021.04.15 22:50
Companies in Suwon Startup Support Center Representative of CNA Co., Ltd. Dong-Soo Cha "NFC technology and wireless charging function can be used at the same time. Securing technology… We will strive to develop products that enhance the convenience of everyday life."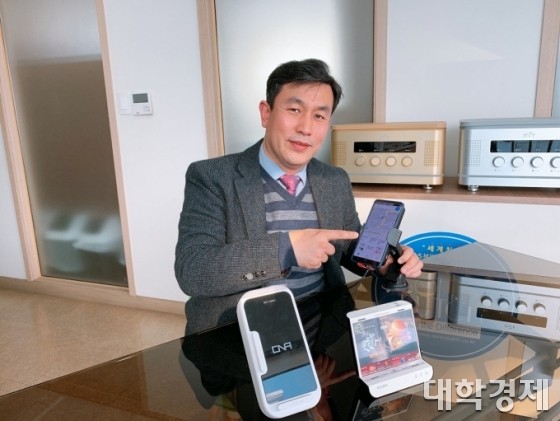 "If you mount your smartphone on XCAN, wireless charging and the desired content are automatically executed."
CNA, a 5-year venture company, is attracting attention by introducing the content auto-execution wireless charger'XCAN', which can simultaneously enjoy near-field wireless communication (NFC) technology and wireless charging function for the first time in Korea.
In the meantime, attempts have been made to combine the NFC technology and the wireless charging function, but when the two technologies are combined, there is a limitation in that the power supply is skewed and a problem occurs. CNA Co., Ltd. has secured unrivaled technology that can use NFC technology and wireless charging function without error after the function three years ago. This technology has been applied for patents in Korea and Japan.
"Based on the expertise gained while serving as an NFC engineer for many years, I challenged the start-up in 2016." "At the beginning of the business, we focused on the development of NFC-based hardware, focusing on cost reduction, but we decided that the market possibility was insufficient with NFC technology alone, so we turned the business direction into an item incorporating a wireless charging function."
He continued, "In 2018, the company was selected as a tenant company in Suwon Startup Support Center in recognition of its excellent technology., △Office space △ Prototype production △ Marketing and PR, etc. "We are receiving a wide range of start-up support," he added, "Thanks to receiving the necessary support for the initial start-up, not only the success of commercialization but also the completion of the business has been improved.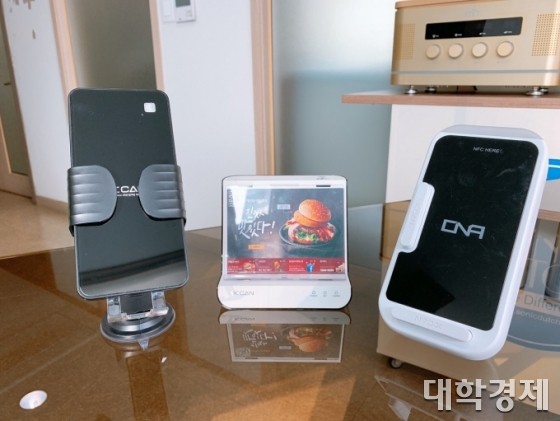 Contents auto-run wireless charger'XCAN', created based on the technology developed by C&A Co., Ltd., is largely divided into Desk top and vehicle use.
First of all, the Desk top XCAN is a product aimed at catering companies such as cafes and restaurants, and if you hold a smartphone, the store's menu window automatically appears on the smartphone screen without installing a separate app. It is convenient for consumers to check menus, order, and pay at the table at once. The content that runs automatically can be set freely by the owner of the installer through the manager app.
The vehicle XCAN automatically runs the navigation app that it uses frequently as well as charging by simply placing a smartphone. Unlike conventional wireless chargers for vehicles, it is designed to automatically open the fixed part (wing) of the smartphone when the vehicle is turned off, maximizing the user's convenience.
In particular, since its launch in November of last year, this product has recorded a funding amount of more than $100,000 in'Kickstarter', a representative crowdfunding service in the United States. CNA Co., Ltd. recently completed the entry of two products into Internet shopping malls, and is also active in pioneering overseas markets such as Japan.
CEO Cha said, "In the case of desktop XCAN, where power connection is essential, we are developing a model with a built-in battery in consideration of difficulties such as wiring from the perspective of users." Considering that, it plans to install a function that purifies the air within a maximum of 3m through plasma."
He added, "We will continue to show products that add convenience to everyday life by actively seeking fields that can incorporate NFC communication technologies such as door locks and hotel services."