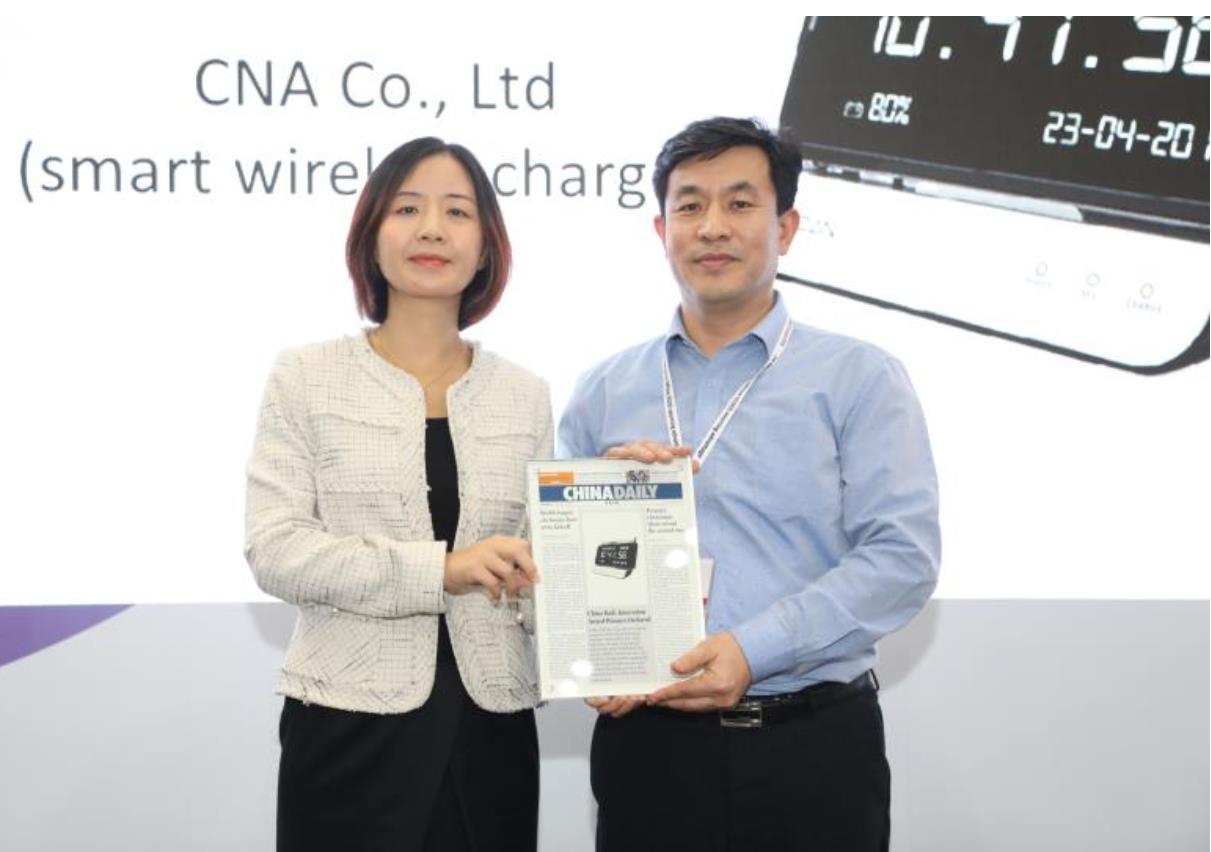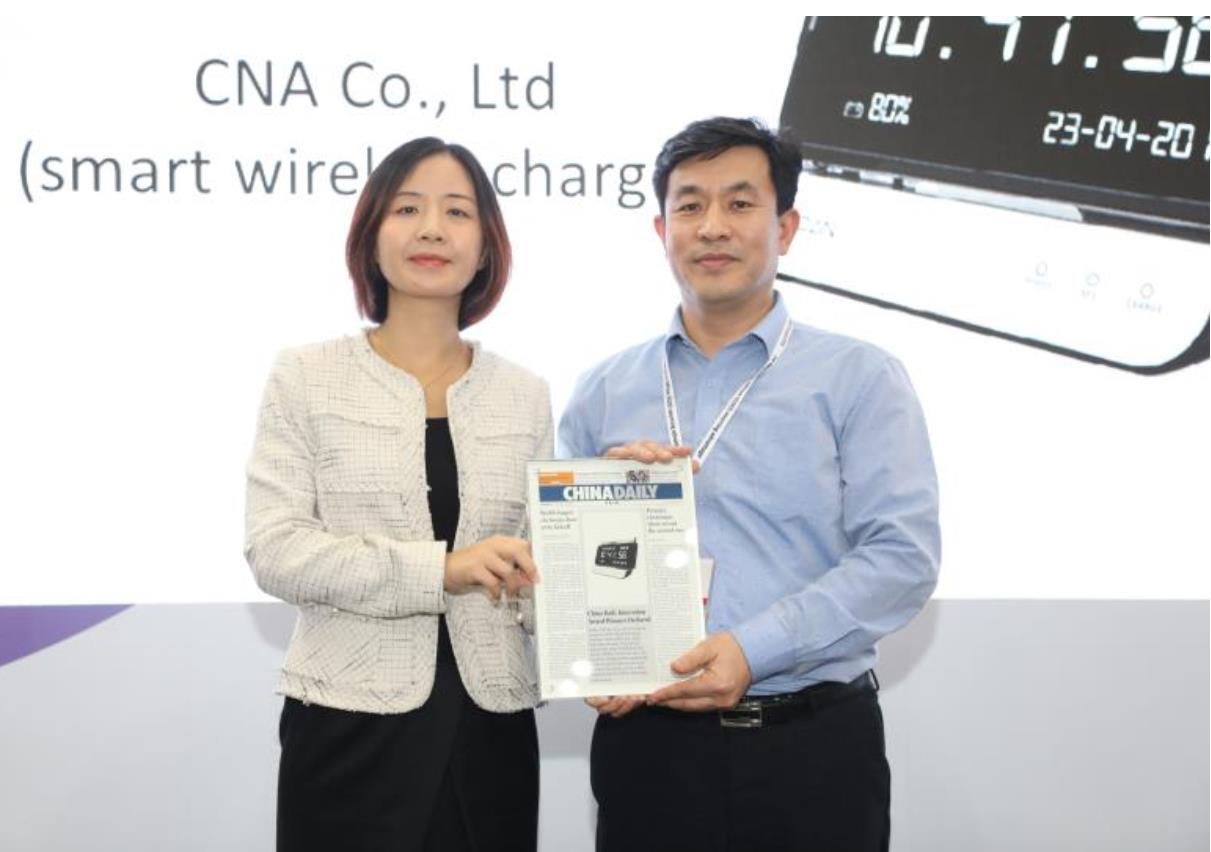 [China Daily] innovation awards for 8 enterprises
Innovative companies honored for technologies that change the way people live with intelligent devices
The rapid advent of innovative technologies has changed the way people live with intelligent and customized solutions. This year's China Daily Innovation Awards at the 2018 Global Sources Mobile Electronics show saw eight companies win awards at the event held on Saturday at AsiaWorld-Expo.
It's the third year Global Sources Mobile Electronics has featured China Daily's Innovation Awards.
"We're excited to work with China Daily to put innovation achievements under the spotlight at the show," Tommy Wong, president of Global Sources Electronics Group, said at the awards ceremony. "The trade show has helped exhibitors reach the global market."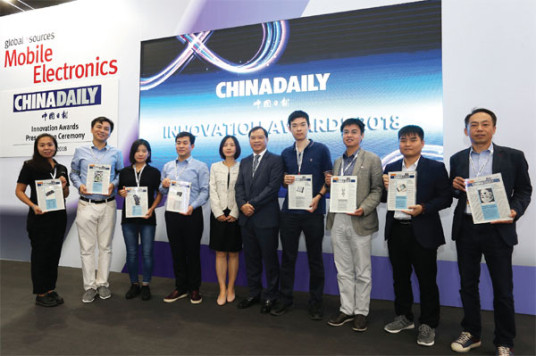 Eight innovative companies, with their forward-looking products that aim at transforming the way people live with intelligent and customized solutions, received the China Daily Innovation Award at the 2018 Global Sources Mobile Electronics show on Saturday at AsiaWorld-Expo. Edmond Tang / China Daily
As the "super connector" in one of the world's most dynamic trading regions, Hong Kong is speeding up the development of innovative technologies in line with the launch of the Guangzhou-Shenzhen-Hong Kong Express Railway link and the opening of the mega Hong Kong-Zhuhai-Macao Bridge.
"Global Sources trade fairs are leveraging the strengths to attract more buyers and entrepreneurs with new ideas from across the world," said Song Ping, deputy editor-in-chief of China Daily Hong Kong, at the awards ceremony.
Awards for the "Most Promising Electronic Gadgets" went to the Pocket Travel Companion translator by Beijing Babel Technology Co; the AI Filming Robot by Taro Technology Incorporated; the Gaming Rugged Smartphone by Shenzhen Doogee Hengtong Technology; the 3D Mobile Phone Screen Cover by Kangde Xin Composite Material; and the Digital Ionzyme Face Mask by August 10 Co.
With the Pocket Travel Companion-JoneR Translator, users can enjoy multilingual translation, Wi-Fi and audio guide services in one device, said Xie Yanshun, marketing director of Beijing Babel Technology.
"According to market research, the three main problems for travelers are language barriers, inconvenient internet connections and a lack of knowledge of tourism sites. So, our goal is to use one device to cope with all these challenges and provide tourists with smooth overseas travel experience," said Xie.
The portable translator now supports voice translation for 45 languages and 57 dialects, with the accuracy rate of Chinese and English translations reaching as high as 97 percent. The device is now available on the Chinese mainland, and in Hong Kong, Europe, North America, Japan and South Korea.
Xie expects the device to be exported to more countries and regions.
"Within China itself, the number of inbound and outbound tourists reached 269 million last year, and we expect the market concerned to reach dozens of millions," he said, adding Beijing Babel Technology will continue to upgrade the product in cooperation with Tsinghua University to provide better user experience.
With artificial intelligence technology, the filming robot designed by Taro Technology Incorporated can act like a cameraman and save users' time in filming, editing and post-production.
"For example, while filming the pose of a skateboard athlete, the robot can, not only automatically track the movements, but also analyze them and cut out the clips which it finds to be excellent for later editing," said Qian Hao, Taro Technology's chief executive officer. "People who wish to film their daily lives can also use this with their families, so no one needs to be behind the camera."
The AI Filming Robot, which took two years of research, is currently in the pre-order stage and will go into mass production next month, according to Qian. The company has received orders from companies in Europe, the United States and Japan. Qian said the second generation device is expected to be launched in the first half of next year. It will be more suitable for use by the family and females.
The Game Rugged Smartphone by Shenzhen Doogee Hengtong Technology allows users to enjoy high-performance gaming experience anywhere, anytime. Before its official launch at the Global Source Mobile Electronics Show, the award-winning model Doogee S70 had raised more than $100,000 through crowdfunding, attracting worldwide attention.
"A smartphone that can provide excellent gaming experience is usually very expensive and not very suitable for use in extreme outdoor conditions. But, our product, which is waterproof, dustproof and shockproof, can meet players' demands in all kinds of conditions," said Liu Jia, overseas sales manager of Shenzhen KVD Communication Equipment – the parent company of Shenzhen Doogee.
Doogee phones are now sold in more than 200 countries and regions, and are particularly popular in the African, European and American markets, he said.
With a simple phone case designed by Kangde Xin Composite Material Co and its 3D Mobile Phone Screen Cover, users can watch 3-D movies and videos without having to use any headset or glasses.
"The challenging part of this kind of screen cover or phone case is that there are different types of screens in the mobile phone market, since some use LCD while others use AMOLED. So, we have to adjust the design accordingly," said Zhao Dongxun, marketing manager of the Shanghai-based company's marketing department.
The company also intends to apply naked-eye 3-D technology to devices like computers, television sets and tablets. Unlike the phone cover, which target average users, those devices have built-in naked-eye 3-D technology to enable more complicated functions, which Zhao says have great potential for professional users, including designers and architectural companies which use 3-D models in their day-to-day operations.
The company now partners with Black Shark Technology, a Chinese gaming company backed by tech giant Xiaomi, to better combine the naked-eye 3-D technology with gaming and create a bigger platform for 3-D gaming and video content, according to Zhao.
The combination of beauty tech and information and technology can help transform skincare, which the award-winning Digital Ionzyme Mask is trying to promote. This specially designed mask can help the skin absorb nutrition 24 times more than by using regular masks, said August Choi, president and CEO of the South Korea-based August 10 Co – the company behind the digital mask.
"Normally, molecules greater than 500 daltons cannot penetrate the skin barrier, so a lot of nutrients contained in beauty masks will be wasted and people need to apply them multiple times a week," said Choi. "Our device will help with the absorption process through ionization and, at the same time, massage the skin."
Launched in October last year, the mask is now available in South Korea, Japan and many European countries. Choi said sales in Japan have exceeded 400,000 sheets, and he aims to introduce the product to Hong Kong, the Chinese mainland and the Philippines.
"We're also trying to improve the technology, making it possible to help treat rheumatism for the elderly and tighten loose skin for women after pregnancy," said Choi. "It'll be multifunctional with one device."
Outstanding startups
Technologies are also revolutionizing smart-home devices, providing a safer and environmentally friendly way of living.
AICO Technologies, a Singapore-based smart-living automation creator, was honored as one of the "Most Promising Startups". The smart egg created by the company stores all the control demands of the user's home devices which can be controlled through an app. The system is backed up by more than 200,000 different IR remote data.
"You can also customize the control pad on the app to create your very own scenes. Like you can combine the control button of the television, speaker and set-top box into one button and switch the appliances with only one touch," said Sydney Shi, co-founder and CEO of AICO. "Besides, you can manage the opening time of each appliance via the app," he added.
With a focus on the smart-living egg development since its founding in 2014, the company has introduced the third-generation smart egg with intelligent function that tracks mobile movements and positions, allowing users control of home appliances without having to awaken the phone.
"The tradition of one remote control for one appliance is gradually being replaced as it's neither convenient nor sustainable," Shi explained. "Though it still takes a while for the public to fully accept the smart-home technology, we are sure smart living is the future," he said.
Another award winner was AROVIA – a US-based portable desktop-sized screen creator. Its Spontaneous Pop-Up Display (SPUD), 24-inch with high resolution, can be folded into a book-sized device weighing 2 pounds and be connected to smartphones, tablets or laptops.
"Alex, the other co-founder, and I met at university. He came up with the original idea four years ago and we found we don't really want to confine ourselves to the laptop screen," said George Zhu, co-founder and CTO of AROVIA. "The SPUD is not just a product, but a necessity in our own daily lives, a large and portable screen," he said.
The SPUD is manufactured in the Pearl River Delta, with its core technical team based in the US. Still exploring the mass market, AROVIA, with just four staff at present, is trying to reach more market potentials.
The high demand for smartphones has boosted the wireless charging market. CNA Co, a Korean provider of wireless, rechargeable intelligent cradles for smartphones, was also another winner in the startup category.
Combining ordering and charging into one cradle, CNA solved the pain points in catering shops that costumers may find it difficult to charge on the move and order with long queues. Embedded with the company's patented near-field communication (NFC) technology, the X-can cradle detects and enables technologies within short distances to communicate without internet connection.
Currently, CNA plans to develop a wireless charger combining navigation. "You can charge your phone while navigating when driving," said Dongsu Cha, CEO of CNA Co. "We're trying to come up with more smart solutions for daily use," he added.
The Global Sources 2018 fall edition runs in three phases from Oct 11 to 30, showcasing more than 9,000 booths of innovative gadgets, smart living automations, fashions, gifts and home products. The third phase – Global Sources Lifestyle and Global Sources Fashion – will be co-located at the expo from Oct 27 to 30.
China Daily 2018. 10. 22